RACKWISE DCiM Xtm software is designed to address the full spectrum of enterprises, data centers and data center infrastructure management needs.
Data Center Infrastructure Management (DCIM) Software Designed to Fit Your Business
RACKWISE DCiM Xtm is an enterprise-class suite of Data Center Infrastructure Management (DCIM) software that enables intelligent management of your entire enterprise's data center infrastructure environment including centralized management and visualization of floorplans, assets, visualization of power, cooling and rack capacities, connection management, real-time monitoring, failure and what-if scenario analysis, green reporting, as well as industry-leading reporting and business analytics, and intelligent capacity planning. A scalable platform, open architecture, comprehensive feature set, and intuitive user interface makes the RACKWISE DCiM Xtm solution easy-to-use, provides quick time to value and short return on investment, and helps businesses of all sizes manage and optimize their complex global enterprise infrastructures and data center environments.
RACKWISE DCiM Xtm provides a platform for managing one or several diverse physical IT and facility infrastructures, physical assets, and virtual resources helps drive increased energy savings, provides critical insight into data center consolidation strategies, and increases reliability through detailed failure analysis, capacity trending, relationships from physical assets to the business functions they provide. Strong modeling and unlimited "what-if" scenario analysis are core features of the software. Make informed decisions; enable day-to-day efficiencies, and proactively manage all of your data centers with RACKWISE DCiM Xtm software.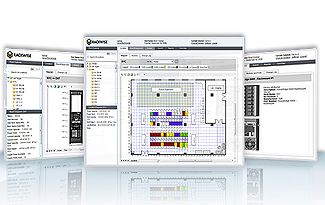 RACKWISE DCiM Xtm is designed to provide an enterprise class, centralize architecture and a comprehensive suite of features that meet the demands of any business requiring improved management, efficiency, and optimization of its enterprise and data center infrastructures.
RACKWISE DCiM Xtm software is offered as an on-premise solution, and can be installed in either a virtual server or physical server inside your environment. RACKWISE DCiM Xtm is also offered as a SaaS subscription model (RACKWISE OnDemandtm).
RACKWISE DCiM Xtm is built on industry proven standards including Microsoft Windows Server, SQL Server, Visio, Excel, and IE browser.