RACKWISE DCiM Xtm provides the capability to monitor data from real world equipment in real-time.
Real Time Monitoring
This monitoring enhances the analysis of operational data centers to ensure information is up-to-date and as accurate as possible. With the large number of devices and elements in any modern data center, automated collection of data from devices is a critical as manual collection methods struggle to keep up with the higher densities involved. RACKWISE DCiM Xtm can collect a variety of data directly from any network enabled devices through a number of standard protocols and data collection techniques within our robust and scalable monitoring services engine. This dramatically increases the visibility of key resource consumption data and provides unlimited possibilities of what attributes can be tracked and trended.
Monitor Power , temperature, humidity from intelligent power strips, PDUs, or other Building Management Systems (BMS) or facilities equipment
Any real time or variable value network accessible attribute
Monitor and analyze energy consumption data by data center site, floor, room, rack or server
Track usage for logical groups of equipment within the data center resources
Collected and aggregate data from one or more data center sites to drive intuitive web-accessible dashboards, making energy use visible and manageable to local and remote data center operators
Track server performance CPU, disk activity, memory usage directly from devices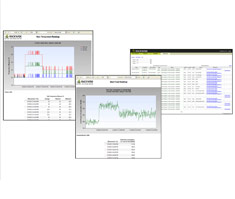 In partially instrumented environments, real-time acquired data can be used to override any modeled (static) data in the system, thus allowing for the combined use of real-time data collection when it is available and modeled/static data when not. This creates an immediate hybrid approach to get stated immediately and then progressively improving your capacity model by adding additional real-time monitors over time. This approach lets you achieve maximum accuracy of data center models; to providing a more complete DCIM capacity picture.