RACKWISE® DCiM Xtm provides critical visualization of your data center environment including floor plans, rack enclosures, devices and subcomponents.
Data Center Visualization
DCiM Xtm WEB PORTAL
Web Browser Interface
Top Down Views of the Data Center
Rollover rack status bubbles for quick access to critical energy and capacity information
Customizable color coded rack status dashboard for power, heat, amperage availability, port availability, space
Drill through to front/rear Rack Elevations
Drill through to front/rear device views
Device representation matches device configuration for (NIC cards, disk drives, line cards, blades, etc.)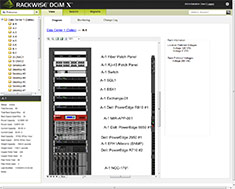 DCiM Xtm SmartClient
Microsoft Visio and Excel Based Interface for intuitive, easy-to-use asset visualization and modeling
Drag and drop devices or components within devices into rack
Top down data center design
Front rear rack design
Interactive visual resource consumption status displayed while designing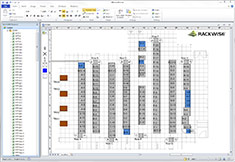 The flagship data center infrastructure management software suite of products and service offerings, DCiM Xtm Solutions, are used by over 150 companies worldwide to track, manage, plan, optimize and provide cost analysis of IT infrastructure.